Temperature Screening Thermal Solutions
In today's changing landscape, businesses must adjust to the way we interact and must have adequate security measures to ensure public safety. Temperature Screening is now a must in every workplace and public areas.
With advanced detectors and algorithms, Hikvision's Thermographic Cameras are designed to detect elevated skin surface temperatures, and can thus be used for rapid and preliminary temperature screening in office buildings, factories, stations, hotels, airports, and other public places with high accuracy of up to + 0.3℃
---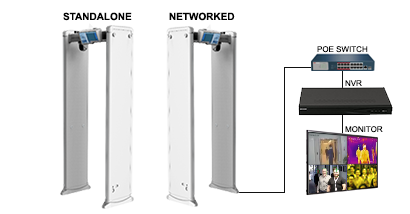 Thermal Security Gate
Can work as standalone or networked unit (+ additional components) for data management.
Key Features:
Metal detector walk-through with integrated fever screen camera
LCD panel with different counters for passing-though, metal alarm, temperature alarm
Touch-free, fast screening
Temperature measurement accuracy: + 0.5℃
Temperature measurement range: 30-45℃
Light alarm w/ buzzer
Follows international safety standards (Safe for pregnant women, people with cardiac pacemaker, etc.)
Facial recognition (subject to location) and mask identification
---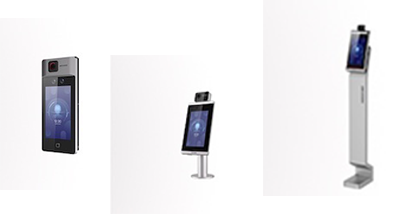 Temperature Screening Stand Terminal
For Thermal Screening, Facial Recognition, Attendance log and Mask Detection.
Key Features:
All-in-one access control and fever screening terminal solution
Contactless door control, time and attendance
Plug and Play
Rapid deployment, easy installation and configuration, wireless
Authentication distance: 0.3-2.0 meters
Temperature measurement range: 30-45℃, accuracy + 0.5℃
10.1 inch touch-screen LCD, 2MP wide-angle lens
High capacity: maximum 50,000 faces
Face recognition duration (1:N) < 0.2s
Supports 6 attendance status (Time-In, Time-Out, Break-In, Break-Out, OT-In, OT-Out)
---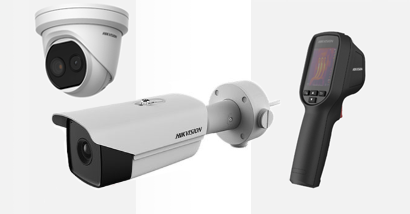 Thermal Bullet, Turret and Handheld Cameras
Key Features:
All-human detection
Simultaneous temperature screening
Distance range: 0.8-9.0 meters (depending on model)
Temperature measurement range: 30-45℃, accuracy + 0.5℃
High Sensitivity thermal module
Bi-spectrum image fusion, picture in picture preview
High quality optical module
Accuracy can be adjusted to + 0.3℃ by using Blackbody Calibrator