Video wall and Digital Signage
Whether big or small projects, video wall or standalone configurations, we can provide you with top quality display products from hardware to software. Ready with our installation and seamless integration services, our company is your one-stop digital display solution provider / supplier.
---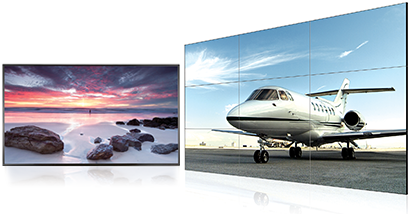 LFD – Large Format Display Monitor Video Wall
Large Format Display Monitors are industrial grade monitors designed for advertising and longer hours of usage.
 Key Features:
Sizes range from 32" up to 90" above
Can be configured for Standalone or Video Wall setup
Optimized for your 16/7 or 24/7 business
Highest quality panel meant for professional usage
Industrial grade, long life electronic boards and components
Higher brightness (450 cd/sqm) than regular TV's (350 cd/sqm)
Can be operated on Horizontal(Landscape) and Vertical mode (Portrait)
Anti-image retention in-build software
---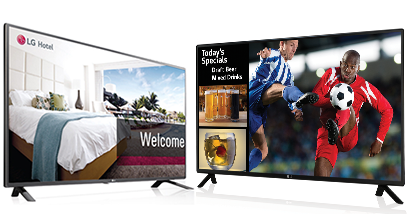 Commercial Television
Hotel TV
Make the new industry standard the norm in every room.
Hotel TV's are designed to provides incredibly easy-to-use content delivery and a flexible communications interface. Open up new and exciting possibilities in guest room interactivity.
Key Features:
Welcome screen
Remote manager
Hotel mode – lock TV settings
Invicible front LED clock
USB cloning and USB multimedia to easily transfer contents and settings from one TV to another
Eco-Technology (Green Certification)
VideoMute (Music Mode)
Supersign TV
LG SuperSign TV is a digital signage TV made simple. It is the perfect
solution for businesses that need straightforward, eye-catching and effective way to communicate with their target audience.
Key Features:
Software with built-in templates for content creation to match your business  needs
Sleek, lightweight, compact design
Full HD resolution for supreme picture quality
Supports industry-standard digital media software and media types
Highly reliable solid-state technology
---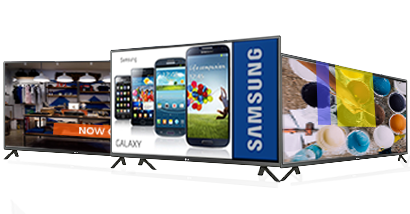 Our Company has partnered with SignageLive to act as an implementing agent in the Philippines for their content management platform . We provide the installation and support services in addition to the training and configuration of their web based content scheduling software.
Key Features:
Independent to any monitor or hardware brand
Manage your media with ease. Web based software for easy access anywhere
Divide your screen to display multiple content zones
Drag & drop media into playlist
Decide where and when your media will play
Display and download reports on all aspects of your media, devices and users
Setup and control your users, exactly as you require
A single dashboard to provide you peace of mind
A wide array of widgets for your contents
Low cost solution (subscription based)
SuperSign (LG)
SuperSign is the signage content management software for LG Display Monitors. It has the Lite version which can be used in basic configurations while the SuperSign W version can support vide wall synchronization.
Key Features:
Easy schedule creation
User friendly management and content creation interface
Distribution via Network
Media player management
Publish through USB stick
MagicInfo (Samsung)
Featuring the ability to create, manage, monitor and schedule media content on your Samsung Display Monitors.
A smart, intuitive content creation and management solution for your digital signage, MagicInfo offers a suite of creative tools that are built to ease the creation, scheduling, and deployment of contents to your network of advertising displays.
Key Features:
Create eye-cathing content through use of MagicInfo Author
Web based management solution
Built-in templates
Distribution via Network
Publish through USB stick